ParrotAlert needs your help
As we provide a FREE service to all, we need help to meet our service running costs. If you value our service and wish to help keep it running, you can help us greatly by donating via:
FOUND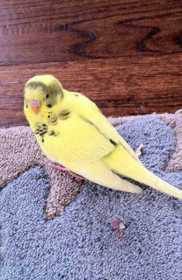 BUDGERIGAR
Report #: F1068
FOUND: 2011-06-15
Surrey, British Columbia, CA
REPORT #: F1068 - COMMENTS
This little budgie was found in our yard and seems to be very tame and misses his family. We will happily keep him until his owner collects him/her but we would like to see him/her go home.