ParrotAlert needs your help
As we provide a FREE service to all, we need help to meet our service running costs. If you value our service and wish to help keep it running, you can help us greatly by donating via:
FOUND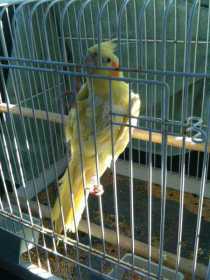 COCKATIEL
FOUND REPORT #: F2632
Thursday January 26th 2012
La Habra, California, US
FOUND REPORT #: F2632 - COMMENTS
This cockatiel was found on Lambert Blvd in La Habra, CA on 1/26/12. He was turned into the La Habra Police Station. Since we lost our cockatiel as well in December (I have put up ads for my cockatiel that was lost in La Habra), the police officer thought he could be ours but he's not. He has an injury to one eye as well. He is with person in Orange County that is rehabilitating him/her. If this sounds like he could be your cockatiel, please let me know and I can connect you with the person that has him/her.