ParrotAlert needs your help
As we provide a FREE service to all, we need help to meet our service running costs. If you value our service and wish to help keep it running, you can help us greatly by donating via:
LOST
REWARD OFFERED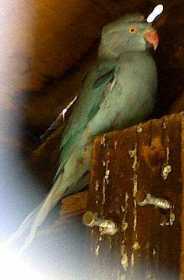 INDIAN RINGNECK PARAKEET
Report #: L1909
LOST: 2011-09-10
Strand, Grabouw, Western Cape, ZA
REPORT #: L1909 - COMMENTS
Light blue. She lost her tail feathers, old injury on head from other birds and lost 2 toes. Currently on medication were just getting better but need her meds. Please help me find her.