ParrotAlert needs your help
As we provide a FREE service to all, we need help to meet our service running costs. If you value our service and wish to help keep it running, you can help us greatly by donating via:
LOST
REWARD OFFERED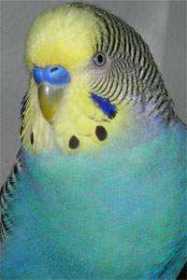 BUDGERIGAR
Report #: L2173
LOST: 2011-10-25
Nanaimo, British Columbia, CA
REPORT #: L2173 - COMMENTS
Our budgie parakeet "Oliver" is lost. He is turquoise blue with a light yellow face and very friendly. We live in the Nanaimo downtown area near Milton and Franklin. He took to the sky today on Oct. 24, 2011. We are very happy to offer a reward if returned to us. Please contact by email.