ParrotAlert needs your help
As we provide a FREE service to all, we need help to meet our service running costs. If you value our service and wish to help keep it running, you can help us greatly by donating via:
LOST
REWARD £30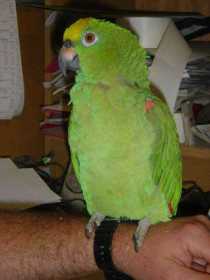 AMAZON
Report #: L2775
LOST: 2012-02-11
Clophill, Central Bedfordshire, UK
REPORT #: L2775 - COMMENTS
Alfie is about seven and a half years old and free flying. He is generally very friendly and will eat anything. He is predominantly green with a well defined yellow crown which has a very small patch of green almost in the middle of his head. I believe his species is Panamanian rather than yellow headed.