ParrotAlert needs your help
As we provide a FREE service to all, we need help to meet our service running costs. If you value our service and wish to help keep it running, you can help us greatly by donating via:
LOST
REWARD £50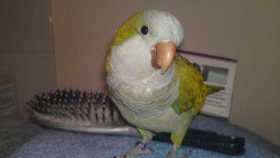 QUAKER
Report #: L1968
LOST: 2011-09-20
Cottenham, Cambridge, Cambridgeshire, UK
REPORT #: L1968 - COMMENTS
Escaped from cottenham around 7pm, was quite windy and believe she may have been swept away, she is not used to the outside world. she is friendly but nervous.