ParrotAlert needs your help
As we provide a FREE service to all, we need help to meet our service running costs. If you value our service and wish to help keep it running, you can help us greatly by donating via:
LOST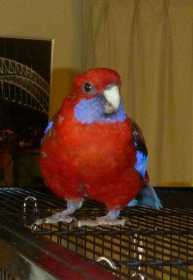 ROSELLA
Report #: L2939
LOST: 2012-02-24
Buxton, New South Wales, AU
REPORT #: L2939 - COMMENTS
Bluey was on holidays at my brothers house in Buxton NSW when he decided to escape during cleaning. Although he isn't friendly towards others, he was friendly with me. He liked to shower with me, eat from plate and rest on my belly. He has whistle that sounds like a smoke alarm going off and is quite vocal at dawn and dusk.