ParrotAlert needs your help
As we provide a FREE service to all, we need help to meet our service running costs. If you value our service and wish to help keep it running, you can help us greatly by donating via:
LOST
REWARD $20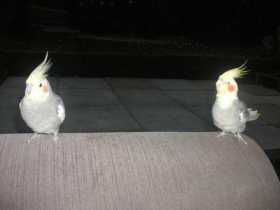 COCKATIEL
Report #: L580
LOST: 2011-04-18
Bull Creek, Western Australia, AU
REPORT #: L580 - COMMENTS
Bruno is about 6 months old he is dark grey with a yellow face and bright orange cheeks. He is very vocal-whistles and talks and is quite tame. He and my other cockatiel flew off in fright today, he was last seen in a tall tree at a park on bull creek drive then some wild birds chased him and Im not sure where he went after that.