ParrotAlert needs your help
As we provide a FREE service to all, we need help to meet our service running costs. If you value our service and wish to help keep it running, you can help us greatly by donating via:
LOST
REWARD OFFERED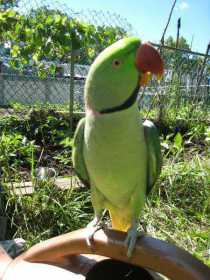 ALEXANDRINE
Report #: L496
LOST: 2011-04-07
Niagara Falls, Ontario, CA
REPORT #: L496 - COMMENTS
Medium-size green parrot with bright red beak and black/pink ring around its neck. He is like family, please help us find him.