We got a report from someone informing us that they've purchased an African Grey from an online parrot pet shop called 'Global Parrots and more' based in the UK. Then went on to add, that they had also paid for international shipping insurance and received confirmation of shipping.
As we started reading what they wrote, it was blatantly obvious they'd been a victim of an online scam. They're yet to receive their parrot which cost them a total of $1400 and "Global Parrots and more" is not returning any communication.
This type of scam didn't involve them trying to sell a parrot, but using a phishing site to scam their victims who happen to find their website in search of a pet parrot.
The parrot phishing business goes by the name of "Global Parrots and more", their website is:
www.globalparrotsandmore.com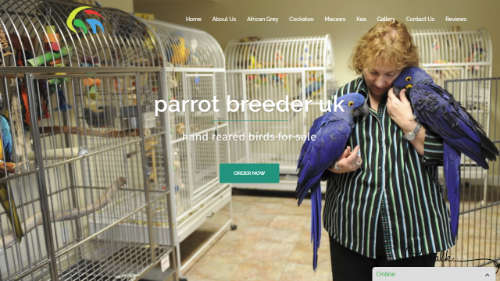 According to their website, their business location is:
1 Springham Park, Douglas IM2 2QR, Isle of Man (UK)
On checking their address via Google maps, the address exists, and as suspected, there is no business located at that address.
Another red flag, the scam business is using UK mobile (cell) phone numbers and no business landline number. Pay as you go UK sim cards can be used in phones anywhere in the world to provide anonymity, or as Americans refer to them as "Burner phones".
What stood out most, was the picture on the contact page. It's a shop in a parade of shops and not on a business park trading estate.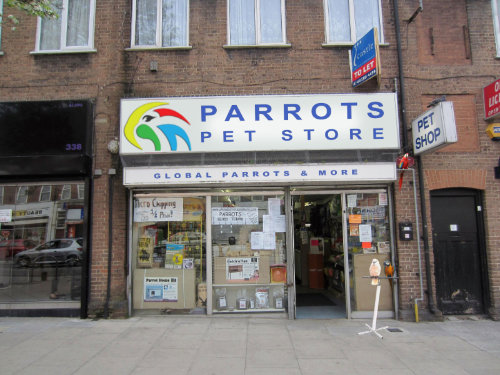 A quick google for the picture identified a pet shop based in London, UK and not the Isle of Man (between England and Northern Ireland).
The London based shop: Hanwell Pet Shop has since ceased trading, the scam site globalparrotsandmore.com have used a picture of the then trading pet shop and modified it for their contact page.
The original shop photograph: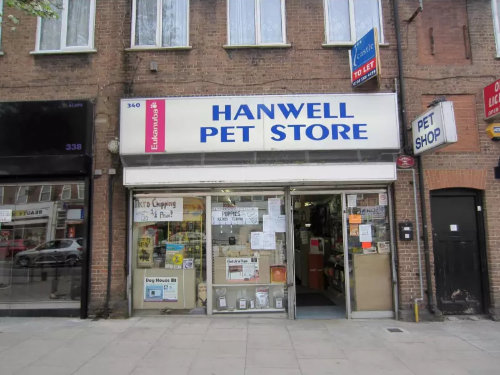 To highlight the differences, we've animated by alternating the two shop pictures: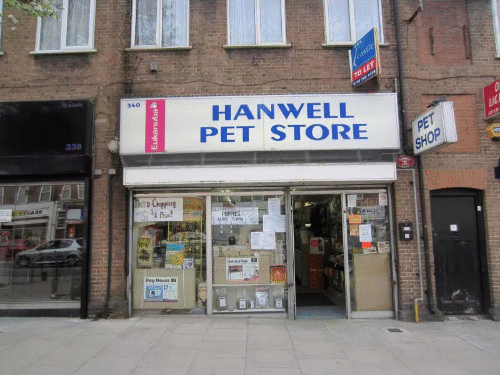 In both images, you can see the same ladies legs and car reflection in the shop window to the left.
After further searching, we discovered they have a facebook page:
www.facebook.com/globalparrotsamdmore
According to their facebook page, Global Parrots and More is located at 342 Greenford Ave, London. W7 3DA and not the Isle of Man, as stated on their website.
Hanwell Pet Shop which has since ceased trading resided at 340 Greenford Ave, Hanwell, London, W7 3DA and not number 342.
On checking the location of the website globalparrotsandmore.com, we identified it as being hosted in the USA via godaddy.com and registered to:
Muhammad Zuhair,
M-80 Muneer,
Emporium
Gulistan-e-Johar
Karachi
sindh
74700
Pakistan
The owner of the scam website appears to be based in Pakistan, and the website is hosted in the USA and using false addresses in the UK.
They have a second scam site that specialises in selling macaws and more:
handrearedmacawsandmore.com
The Isle of Man Financial Services Authority have since made a public notice regarding globalparrotsandmore:
Isle of Man FSA globalparrotsandmore notice
There is an old saying: "Seeing is believing", if you can't see it, don't believe it. If it sounds too good to be true, it often is.
To avoid being scammed, never purchase a pet parrot from an online pet shop website or any advert website, no matter how good it sounds. Many pet shops do have an online presence, if they are online, ensure they are a registered business and have a valid business address that you can arrange to visit.
Never make any payment online, even if you are requested to pay a deposit to reserve a pet.
A good indicator if all isn't as it appears is when you try and arrange to view the pet in person, and the seller suddenly makes excuses to avoid visitation.
If you can't see it, don't believe it.
Buyer beware!
Copyright © 2023 ParrotAlert.com . All rights reserved.
This article or any portion thereof may not be reproduced or used in any manner whatsoever without the express written permission of ParrotAlert.com