Lost and Found
Articles on subjects relating to Lost and Found Birds / Parrots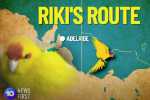 Interstate flyer Riki the Parrot Found 700kms away in Melbourne after escaping family in Adelaide makes Australia Channel 10 TV News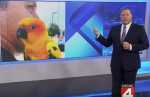 TV NEWS Report from Troy, MI, USA.
A lost parrot lands on a man shoulder filling up at a gas station.
The man called 911 for police assistance and police locate the owner via their lost ParrotAlert.com report.

A story on why you should never give up hope on finding your lost pet parrot or bird, even when all hope appears lost and you stop looking.




A video of a Sun Conure Parrot undergoing a Microchip surgical implantation procedure
A few proactive tips for you, in case you lose your bird.