News and Alerts
Articles on subjects relating to Parrot News and Alerts like news of interest and alerts like parrot scams in operation.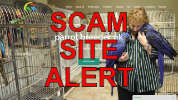 Global Parrots and more (globalparrotsandmore.com) is operating an online fraudulent phishing scam pet website targeting people seeking to buy pet parrots.
Global trade in African Grey parrots is now banned, after the Convention on International Trade in Endangered Species (CITES) voted to officially ban it.
There have been reports within the UK that scammers are currently targeting people by text and email stating they have found their lost parrot.
The trick of the found parrot scam is to emotionally blackmail you into handing over a reward before they would allow its return.