We've been informed of an African Grey Parrot Scam website targeting people seeking African Grey Babies, which appears to be operating out of Georgia, USA.
Site goes by the name "Zamu Grey Farm" via the website domain: www.zagreys.com on the following number: +1 (762) 233-5003 / 762-233-5003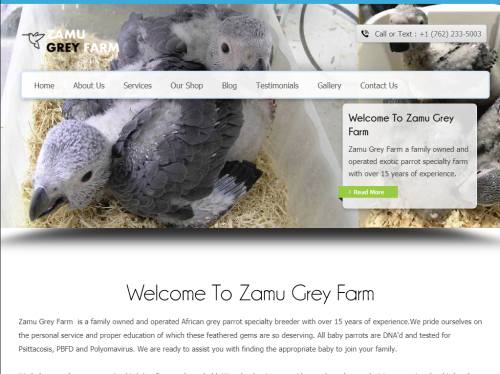 The victim has reported that they've fallen victim to the scam and lost $1000.
Note from the victim of this scam:
I wanted to communicate to you guys in hope that you could spread the message and prevent another person from falling victim to fraud. I just lost $1,000 that I spent trying to buy an African Grey parrot from a seemingly legitimate website: zagreys.com. It has a Georgia (US) phone number and a lot of content (if you search most of the text and images in Google, however, it turns out they were copied directly from legitimate websites). I sent them $1,000 through Zelle and never received my parrot. The person supposedly dropped it off for shipment, and gave me a tracking number for pshippings.com, which is another scam company. PShippings contacted me for $985 for "refundable insurance" which I wouldn't pay until they proved they had the parrot. He could not do so and refused to send the bird until I sent more money, which they wanted me to Zelle pay another personal Gmail address!! The guy on the phone from the shipping company and the breeder sounded like the same person, possibly with a Pakistani accent.
The site is operating under the usual traits for a scam site.
After checking zagreys.com, the domain came into existence in May 2019 and doesn't have a physical address on the website to check and verify.
There is an old saying: "Seeing is believing", if you can't see it, don't believe it. If it sounds too good to be true, it often is.
To avoid being scammed, never purchase a pet parrot from an online pet shop website or any advert website, no matter how good it sounds. Many pet shops do have an online presence, if they are online, ensure they are a registered business and have a valid business address that you can arrange to visit.
Never make any payment online, even if you are requested to pay a deposit to reserve a pet.
A good indicator if all isn't as it appears is when you try and arrange to view the pet in person, and the seller suddenly makes excuses to avoid visitation.
If you can't see it, don't believe it.
Buyer beware!
Copyright © 2023 ParrotAlert.com . All rights reserved.
This article or any portion thereof may not be reproduced or used in any manner whatsoever without the express written permission of ParrotAlert.com